Simply calculate your cabin requirements
What do you need toilet cabins for?
Your field of application
How many people use the cabin(s)
Your field of application
Please note that disabled toilets may need to be planned for events.
For your requirement you need more than toilet cabins. At the moment an online order of more than toilet cabins is not possible, please contact our sales department!
If you have more than one gender, we recommend one additional cabin per gender for improved privacy. To do this, simply adopt this recommendation via the button below.
For users or more, you need hand wash stations according to BG BAU recommendations. We therefore recommend toilet cabins with hand wash basins. Please contact us for your personal offer.
From users you need according to BG BAU recommendation . We therefore recommend the selection of a container. Please contact us for your personal offer.
For your purpose we recommend Cabin
s
Consultation without obligation
For the best possible advice, please enter the following information.
Mobile Mini Bathroom







Functionally and comfortably equipped
Modernly furnished
Flexible in use
Promptly delivered
Ready for immediate use
Product description
Product description
Mobile Mini Bathroom
The mobile Mini Bathroom – comfort on two wheels
Modernly furnished and flexible in use: the mobile bathroom from TOI TOI & DIXI is the perfect solution for anyone who temporarily cannot use their own bathroom due to refurbishments – or anyone who would like to have a mobile bathroom wherever one is currently needed.
The modern fittings leave nothing to be desired – from the shower tray with shower curtain to the toilet and wash basin. Non-stop hot water is available as a matter of course. Here you will find your very own comfortable feel-good space – and the privacy you desire.
Our service is equally impressive: the Mini Bathroom can be delivered quickly and made operational in no time – allowing you to focus on your own project while the conversion is ongoing. On request, we are happy to provide cleaning staff who will take care of your mobile bathroom.
To be considered
FIRM, GROUND LEVEL LOCATION REQUIRED
REQUIRES FRESH WATER, SEWAGE, AND ELECTRICITY CONNECTIONS (400 V / 32 A)
IN GENERAL, A WASTE WATER DISPOSAL PERMIT IS REQUIRED FROM THE LOCAL AUTHORITIES
Quality


How it works
Information about the order and the product
You have questions concerning our services or products? Please contact us and we'll be delighted to help you with questions concerning:
needs assessment
delivery and collection
tailored solutions
permits and licenses
Delivery
We have a fleet of service vehicles which we use to deliver your mobile Mini Bathroom to the desired location, where we position it as needed. On request, collection by the customer can also be arranged.
Installation and connection
Electricity, water, and sewage connections may only be put in place by trained experts. This can be done by our service staff on request. They have many years of experience and can adapt to different circumstances on site. We are also happy to provide the necessary connection material if required.
Cleaning
Before and after each deployment, the mobile Mini Bathrooms are disinfected and checked to ensure the highest hygiene standards. The cleaning process includes not only the visible sanitary area but also all lines and connections. On request, we can also provide you with trained staff for on-site cleaning.
Your use case
Our solutions for your needs
Discover our services
TOI TOI & DIXI product portfolio
How we can help you
Questions and answers about our products, services and online rentals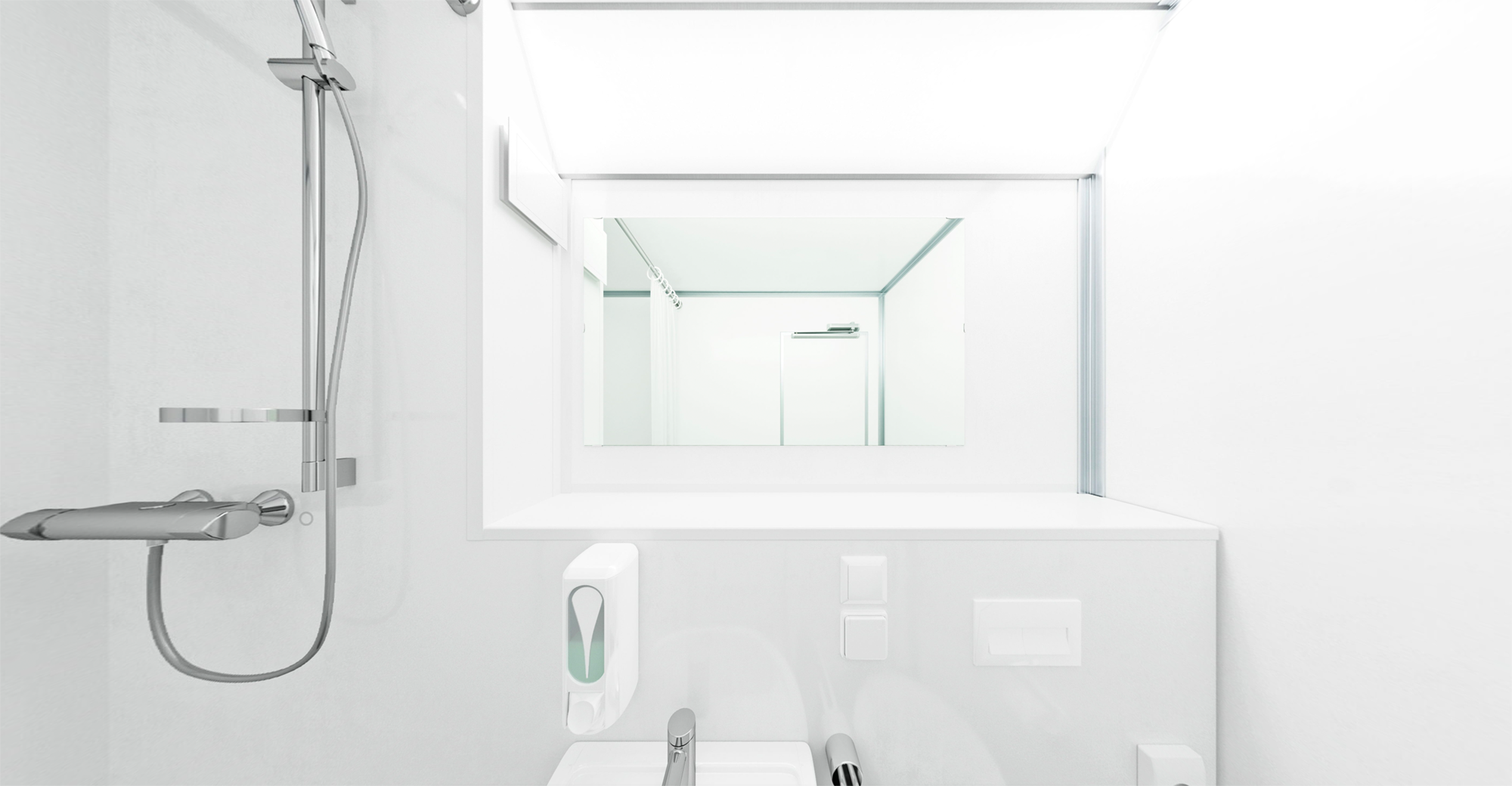 Start your virtual tour here.
Spatial concept, fittings, design: take a 360° look at our products and experience them for yourself.
Length: 3,150 mm
Width: 1,800 mm
Weight: 540 kg Approved
total weight: 750 kg
Sewage: HT pipe 100 Water
Power: 400 V, 32 A
Socket: 230 V
Flow heater: 18 kW (or hot water boiler 230 V / 30 l)
Exterior lighting: LED light
Interior lighting: LED light strip with Plexiglas protection
Heating: 1,000 W
Floor: vinyl in wood or slate look
Entry: folding and lockable aluminum staircase
Entrance door: lockable
Chassis: galvanized
Support: support wheel and 4 sliding supports
Exterior walls: fiberglass-reinforced sandwich panels with aluminum edging
Service area: access doors in the rear wall accessible from the outside
* Subject to technical changes
Shower tray with shower curtain
Shower set with sprayer head and shower thermostat
Wash basin with hot-water tap
Toilet, wall-mounted
Socket with lid flap
Light switch LED surface luminaire
Heating
Flow heater
Crystal mirror
Towel holder
Soap dispensers
Waste container
Toilet paper holder
Hygiene bag dispenser, roof hood, translucent, with hand crank for smooth opening
Electric fan
Continuous storage area above wash basin and toilet
* Interior may vary