Simply calculate your cabin requirements
What do you need toilet cabins for?
Your field of application
How many people use the cabin(s)
Your field of application
Please note that disabled toilets may need to be planned for events.
For your requirement you need more than toilet cabins. At the moment an online order of more than toilet cabins is not possible, please contact our sales department!
If you have more than one gender, we recommend one additional cabin per gender for improved privacy. To do this, simply adopt this recommendation via the button below.
For users or more, you need hand wash stations according to BG BAU recommendations. We therefore recommend toilet cabins with hand wash basins. Please contact us for your personal offer.
From users you need according to BG BAU recommendation . We therefore recommend the selection of a container. Please contact us for your personal offer.
For your purpose we recommend Cabin
s
Consultation without obligation
For the best possible advice, please enter the following information.
Product description
DIXI® B
DIXI® B – The original. For more than 40 years.
When we introduced our first mobile DIXI® toilets over 40 years ago, we invented a whole new toilet culture. Today, the DIXI® enjoys real cult status. Which has nothing to do with nostalgia – but with real, hands-on benefits.
DIXI® B is a sound solution if you're looking for a toilet that is as functional as it is sturdy – and conforms to highest hygiene standards. Whether it's on a construction site or at an event, the DIXI toilet – the first, and pioneering,portable toilet – has proven its worth time and again.
To be considered
ATTENDANCE NOT REQUIRED FOR DELIVERY OR COLLECTION
NO ELECTRICITY, FRESH WATER OR SEWAGE CONNECTIONS REQUIRED
FIRM, GROUND LEVEL LOCATION REQUIRED WITH TRUCK ACCESS TO WITHIN 5 METERS OF FINAL SITE
Quality


How it works
Information about the order and the product
You have questions concerning our services or products? Please contact us and we'll be delighted to help you with questions concerning:
needs assessment
delivery and collection
tailored solutions
permits and licenses
quantity, type and facilities in accordance with workplace requirements / venue regulations
Delivery
We have a fleet of service vehicles which we use to deliver our portable toilets to the desired location. You do not have to present on location during delivery; however, you must ensure the installation site is clearly marked.
Collection
When you no longer require the facilities, we will schedule them for collection in one of our next rounds. You do not have to be present on location for collection. If collection is delayed for logistical reasons and the portable toilets remain on site longer than agreed, you will not incur any additional costs.
Cleaning
We offer all the services you need on location. The rental price includes one weekly cleaning service, replenishment of consumable supplies, and the final cleaning service. We only use environmentally friendly washroom cleaner concentrates. On request, we will be happy to arrange cleaning services at intervals of your choice. Our trained staff works to strict specifications and guidelines; regular internal checks are made to ensure our quality standards remain consistently high.
Disposal
We guarantee compliant disposal of your sewage waste – strictly in accordance with the German Closed Substance Cycle and Waste Management Act. We were one of the first service providers in Germany to be certified in accordance with DIN EN ISO 9001 (Quality Management) standards, and are a state-approved waste management facility.
Your use case
Our solutions for your needs
Discover our services
TOI TOI & DIXI product portfolio
PRIVATE RENTALS
Rent comfortably online. We'll take care of the rest.
In order to show you the products available for you and the corresponding prices, we need your selection and the postcode for the calculation.
---
How we can help you
Questions and answers about our products, services and online rentals
Length: 1.21 m
Width: 1.12 m
Height: 2.23 m
Weight: 82 kg
Tank: large sewage tank (250 l)
* Subject to technical changes
Coat hook
Urinal
Non-slip flooring
White light dome
Draft-free ventilation
Toilet paper holder
* Interior may vary
Laden Sie hier Ihre Produktinformationen im PDF-Format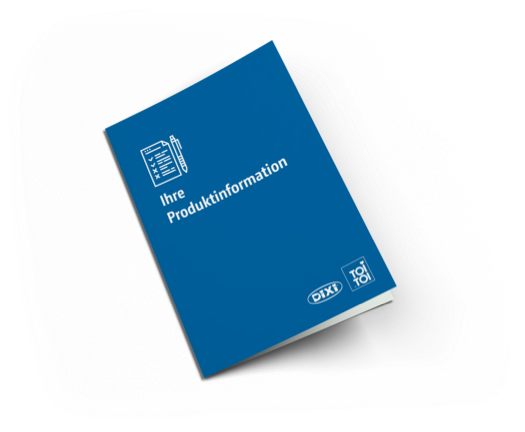 Download